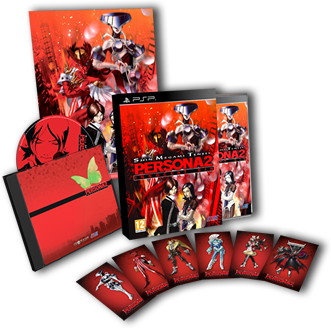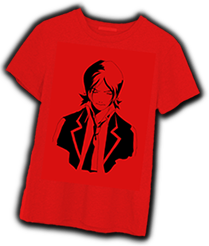 Exclusive Ghostlight Bonus!
Buy the amazing Collector's Edition of Persona 2 Innocent Sin from the Ghostlight store and not only will you receive all of the contents below, but you will also get your hands on this exclusive limited edition T-Shirt absolutely free! Just click on the button below to place your order - but hurry, when they're gone, they're gone!
* Subject to availability. Size L only. Some countries excluded.
The Lost Chapter of Persona Arrives!
With sleek enhancements and expanded content, Persona 2 makes its long-awaited debut in Europe!
In Sumaru City, idle rumours are having a concrete effect on reality. The mysterious Joker seems to be at the centre of it all, but to what end? Delve into the web of rumours slowly encompassing the city before the madness becomes irreversible.
Demons can be friend or foe - do battle or negotiate for items and information!
Collect and spread rumours around town to gain strategic advantage.
The Collector's Edition includes:
Special Collector's Edition box
UMD box featuring a double sided inlay
Official Soundtrack CD with original and remixed soundtrack, as well as arranged songs by Shoji Meguro all packaged in a stylish slim jewel case with inlay
6 Double Sided Art Cards featuring the work of Kazuma Kaneko on the front and Shigenori Soejima on the reverse
A3 Poster featuring the box art in all its glory
Reviews
"Thanks to its modern day setting and the well-written [and occasionally humorous] interactions between its characters, Innocent Sin is far more interesting than the standard RPG fare."
9/10
Playstation: The Official Magazine (US)
"Over the past year or so the PSP has really seen a surge in awesome role playing games, and Persona 2 is no exception."
A- (90%)
Gaming Age
"Persona 2: Innocent Sin is a prime example of the entire reason many of us have loved Japanese RPGs for years."
90/100
Gaming Trend
"It's bizarre, unique and a heck of an experience especially for those who have never touched either game in this duology. It's compelling enough on its own to be worth the price of admission."
8.5
Gaming Excellence
"a worthwhile addition to any PSP owner's library of RPG games."
82%
Game Over Online
"I am happy to report that Innocent Sin was well worth the wait."
8.0
IGN